One of the best way to relax, unwind and be a little adventurous is by camping. Some people consider camping to be the most luxurious thing you can do for yourself. Through camping, people learn more about nature and do sorts of activities while learning how to survive with little to none of the basic modern equipments. In order to feel good about camping and enjoy it better, you need to have a good night sleep and what better way than to have a comfortable cot that you can easily bring with you.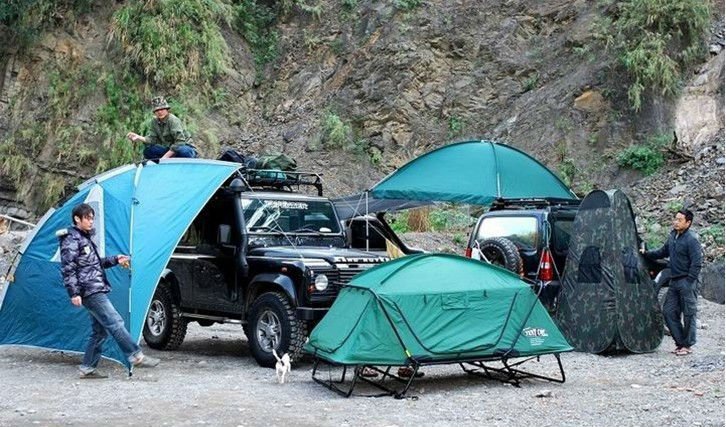 What is a camping cot?
This are collapsible bed made mostly of nylon fabric or polyester with wooden or metal hinged frames that is ideal for camping. But unlike the usual cot we have at home, this cot can be folded many times so it is a space saver and is more lightweight which is ideal to bring outdoor.
Advantage of using a camping cot
It is elevated from the ground, making it more comfortable for the camper to get a good sleep especially if the terrain is rocky
Easier for the camper to get up
Temperature control
Things to consider when purchasing a camping cot
Weight
Comfort
Portability
Where you are going to camp
Budget
Purpose
Here are some of the best cot for tent camping
Teton Sports Outfitter XXL Camp Cot
This is the most durable cot out in the market today. The legs of this durable cot is made of steel & aluminum that can support upto 600 lbs. It is also as big as a twin sized bed, perfect for big campers. This is best cot for tent camping for a long time and for those who plans to do car camping. The weight of this cot is about 26 lbs.
This is the best heavy duty kind of cot. When you speak of Coleman, you are guarenteed of its durability and quality. This is best value for your money, cause it is not too expensive but it lasts a long time. This may look like a traditional old fashioned cot, but its simplicity and function is what attracts most buyers. This may not be the lightest nor the most comfortable but this cot does its function really well. Its legs are made of steel frame and its sleeping surface is made of polyester material. It is about 18 lbs and is great for car camping.
Therm-a-Rest Luxurylite Ultralite cot
What attracts me the most in this product is that it is superlight compared to other cots sold in the market. It is convenient to bring for camping. It is very easy to set it up and to fold it, making it the most packable cot today. It is only about 3 lbs, body is made of polyester ripstop material while the legs are made of aluminum. It is the best cot to consider if you just want to do some backpacking.
Chinook Padded Outfitter Cot
If you are looking for comfort, this is definitely worth the money. This is simply the most comfortable brand of cot in the market. It includes a pillow and a foam built on it making it sleeping most gratifying. It is durable and weighs about 18 lbs. The legs are made of aluminum while the sleeping surface is made of 600 denier nylon material. This cot is so comfortable that you can even use it as emergency bed if you have a guest sleeping in at home.
Summary & Recommendation
I have mentioned earlier that you need to consider first how you are going to use it or what is its purpose. Meaning, if you just want to do a simple camp out for a day or for a long time? Would you be camping in a high terrain where you need to climb and hike for a distance? You need to think about those cause no single cot is the best one for you. It simply depends on how you think you will use it.
About the Author
Pandaneo, an active mountaineer and rock climber. Loves going outdoor and is into extreme sports. He is also an owner of an outdoor gear shop in Chicago.